Happy Mother's Day In Heaven
Mom,

I miss you so much. I miss your laugh, your smile and your touch. You always brightened my days with all the smiles you sent my way.

I need you as my angel to always be at my side. I need you as my angel to give me peace of mind.

I like to think your near to me to know that you are there.

Even though I can not see you, I feel that you are near. Please do not forget me Mom, for you are always in my heart, my thoughts and prayers. I love you. Happy Mother's Day

Love, Sheri
Mom,

All that I am or ever hope to be, I owe to my angel Mother
Mom,

You have a smile that can jump right into your heart and warm you faster than hot chocolate.

A heart of gold that holds more love than anyone could possibly imagine.

Happy Mothers Day

I Love You

Love, Sheri
Happy Mother's Day Mom
You are missed so much. I hope you have a great Mother's Day with my Mom. Please give her a big hug and a kiss for me. I miss you both so very much.
Unti we meet again... I love you both!
Love, Keith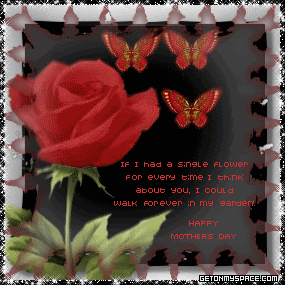 Dear Grandma
I love you so much.
I miss you
Happy Mother's Day
XOXOXO
Love You, Love Jimmy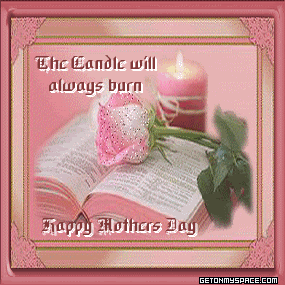 Dear Sophia
Happy Mother's Day in Heaven
You are so very missed
Love Erik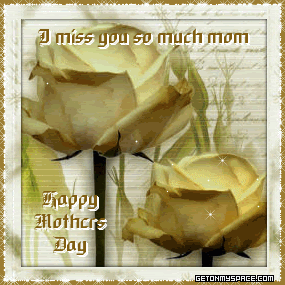 I Wish I Could See You One More Time Come Walking Through My Door But, I Know That Is Impossible I Will Hear Your Voice No More I Know You Can Feel My Tears And You Don't Want Me To Cry Yet, My Heart Is Broken Because I Can't Understand Why Someone So Precious Had To Die I Pray That God Will Give Me Strength And Somehow Get Me Through As I Struggle With This Heartache That Was Caused By Losing You

In Precious Memory Of Sophia Di Meglio Who Walked Through Heaven's Gate September 26,2006

Happy Mother's Day

I Love You with all my Heart & Soul Hugsssss & Kissessss...

Daughter Debra
Happy Mother's Day To My Beautiful Mother Sophia, Nana Dimeglio, Nana Volkes, Mother In-Law Beverly, Grandma Irene.
I also want to wish a Happy Mother's Day to our VM Angels
Angel Juanita
Angel Cathy
Angel Maria
Angel Alyce
(more names to be added)